CFI 4 Ply H.D.P. Panel Filter
Application
CFI 4 Ply HDP Panel Filter is used for air conditioning, compressor air intake and general ventilation as a pre-filter to fine filter.
Construction
CFI 4 Ply HDP Panel Filter is made of 4 layers washable type of high density Polyethelene media, stiched together in a deep crimped formation to provide maximum filteration area. The media is separated by G.I. spacers and is backed by expanded metal on one side. Finally, it is fitted in G.I. filter frame.
Size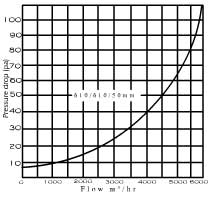 The size of this filter is generally 610 x 610 x 50 mm in both Cassette (Box) type and Fanged type, but it can be made in any other size according to the requirement of the system.
Technical Data
Recomended Air Velocity : 2.5 m/sec.
Initial Pressure Drop : 4 mm Wg.
Final Pressure Drop : 8 mm Wg.
(When Filter needs Cleaning)
Average Synthetic Dust Wt. Arrestance : 80%
As per BS. EN. 779 & ASHRAE 52.1 .
Average Atmospheric Dust Efficiency (Micronic) :
40% Using Laser-based Particle Counte