CFI All Metallic Viscous Filter
Application
CFI All Metallic Viscous Filters are washable type filters used as pre-filters for general ventilation and air conditioning.
Construction
The CFI All Metallic Viscous Filter is constructed using 5 layers of G.I. wire mesh interspersed with 2 crimped layers and 3 flat layers. The media is supported with expanded metal from both sides as reinforcement and fitted in 50 mm metal frame. the filter media ensures maximum filteration area resulting in nominal differential pressure and high dust holding capacity. The filter is required to be impregnated with oil before use.
Size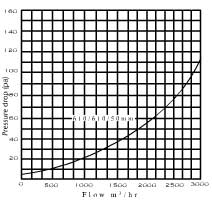 CFI All Metallic Viscous Filter comes in various sizes but generally the size is 610 x 610 x 50 mm.
Technical Data
Recomended Air Velocity :2 m/sec. to 2.5 m/sec.<br>
Initial Pressure Drop : 4-6 mm Wg.
Final Pressure Drop : 8-10 mm Wg.
Average Synthetic Dust Wt. Arrestance : 85%
As per BS. EN. 779 & ASHRAE 52.1 .
Average Atmospheric Dust Efficiency (Micronic) :
40% Using Laser-based Particle Counter